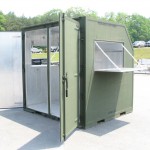 Garrett Container Systems, Inc (GCS) is an ISO 9001-2015 and HUBZone certified small business, located in rural western Maryland.  Established in 1991 as a manufacturer of aluminum storage and shipping containers, GCS offers a range of reusable Air Transportable deployment containers and kennels tailored to your mission set or specific requirements.
GCS expanded its core competencies when it became a system integrator of tactical deployment kits and a full line distributor of numerous top brands of tactical and support equipment. Kits can be tailored to your mission set/needs and sourced appropriately on several different contract paths. Receiving and invoicing is as simple as a single line item, eliminating drop shipments from multiple manufacturers!
We expanded again to include an organic tactical nylon equipment capability. The AF Load Carrying System (LCS) is the basic building block of the DF-LCS V2 kit. Other support kits include M-203 Grenadier Kit, the M-240 Gunner Kit, the M-249 SAW Gunner Kit, the MWD Pouch Kit and the Team Leader Kit.
GCS added a new line of military working dog gear. Our Top Dawg line of MWD gear is made for the professional handler. From leashes to kenneling, GCS and Top Dawg for the K9 Professional have the solution for your equipping requirement. Our K9 working group specializes in providing field proven equipment exceeding quality standards at a cost savings from other providers.
GCS acquired LMC and moved the operations to Accident, MD.  The combination of talent and state-of-the-art robotic equipment are only a few of the major benefits now available to our customers.
Homestation or deployed, GCS has the answer for equipment requirements. You can depend on our selection of battle proven tactical nylon products in addition to products from major brand name manufacturers packed in one of our custom designed containers or as a replenishment package during your equipment reconstitution phase.
---
Call us at

800-582-2540

to discuss your needs.